Koimoi reader Harish Venkataraman is an avid reader and a Bollywood buff. Here is his interesting piece on the most celebrated film currently, Baahubali: The Conclusion.
Baahubali – Rajamouli's Brilliance in Screenplay, Ironies, and references
Hopefully, everyone has watched Baahubali 2 by now in the theaters, If not, go watch it and then watch this video as we have too many Spoilers here.
In this analysis, we are listing out 10 brilliant scenes that show us a glimpse into the mind and workings of the director his strength in screenplay and storytelling that made us sit back and enjoy every single aspect of the movie
10. The Importance of the Waterfalls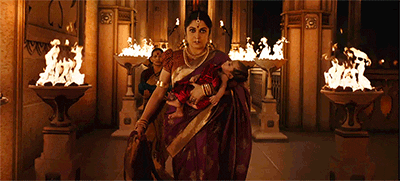 Many of you would have wondered how an untrained warrior Shivu beat a powerful warrior like Palvaldevan. If you remember the director shows that right from birth he was brought up in tough conditions ( baby in the water, as a child climbing waterfall shots). Many a time Shivu attempts to climb the waterfall but manages to succeed only after many years of trying. Hence his mind has learned to overcome defeat and strive harder for success. His body has been accustomed to pain and is in tremendous shape.
Shivu has been established to be physically strong and it is his with his physical strength that he manages to defeat Palvaldevan
We would also like to highlight that even the costumes reflect the characterisation.
Shivu was strong physically was hence shown bare body many times n both the parts.(also in the last fight scene) Whereas Amarendra Bahubali was always shown as an intelligent warrior. He uses his technique to win the battles. He was always shown in warriors costume or in princely clothes.
9. Use of the Five Elements of Nature
Rajamouli has integrated the five elements in the story very aptly.
Water: Baby in water, fight in water, Shivu waterfall, Song lifting lingam.. placing it in water
Wind: Carpets fly,
Fire: To symbolize with anger and strength. Shivagami courtroom scene and Bahubali courtroom. Part two shivagami first shot with fire
Sky: Romantic song
Earth: During coronation
8. Mother's love gains prominence even over God
How many of us noticed that while Palvaldevans takes an oath of Lord Shiva Bahubali takes an oath on his mother saying that she is his god. Both of the parts Shivu was shown to worship his mother ( as a biy accepting sword, scorpion hsot, part two shivagami ill taking care shot)
Same manner Shivu promises his mother that he would bring justice and save the people of his land.
7. Adopted Mother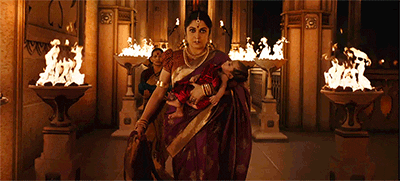 Both Amarendra Baahubali & Mahendra Baahubali were separated from their birth mothers. bUt they both received great care and affection from their adopted mothers. Also they have never seen their birth father.and in teh final sequence the Adopted mother of Mahendra baahubali will also be there to coronate his son the king. brillaint rajamouli gaaru..
6. Maheshmati's Army Commander 's doom
In both 1st part and the second part we can see how the commander in Chief are beheaded by Amarendra Baahubali & Mahendra Baahubali. In the first Ballaldeva's son was the commander in Chief. And in this the commander in Chief will be beheaded after he tries to have behaved inappropriately with Devasena. And if you remember properly when Ramya Krishna's Character takes charge the Commander in Chief then tries to take over the kingdom and She kills him.
5. The Poetic justice for The Pindaris
Whenon dig vijay tour , kattapa and Amarendra Bahubali come across a river full of dead bodies. Kattapa l explainsthat the Pindaris way of killing hapless people by drowning them. As part of Karma you will see Baahubali killing most of the pindaris by opening the dam and drowning them in the water. A poetic justice isn't it?
4. Killed by the same weapon
Kattappa kills baahubali by the sword that baahubali passes while fighting. And Ramya Krishnan will be killed by the arrow that was aimed through the bow that she presents to her son Palavaldevan
. Once again such an irony?
3. The importance of Love
Mahendra Baahubali's love towards Tamannah 's character sends him inside the Mahesmati kingdom and ironically Amarendra baahubali;s Love towards Devasena or Anushka's character sends him outside the Maheshmati Kingdom.
2. Sivudu
Did you all notice what Amarendra Baahubali calls himself when he goes to Kuntala Kingdom? Sivudu. . it was the name given to mahendra Bahubali byhis adoptive partents
1. The reference to Baahubali 3
At the end during the credit. We hear a small boy asking the mad saint from the first film – then Mahendra Baahubali's son will take over the kingdom after him, for that the saint will say 'who knows what the gods have in store?'
Watch the movie again and enjoy these references laid by the brilliant director.